Staff
OUR TEAM
When you became Jake Robbins' client, you placed your trust in him to help make your plans a reality. Jake honors that trust with the help of his colleagues and his expert staff. Together, they make a strong commitment to client service.
Kellie C House
How can Kellie House help you?
•Greet you when you come into the office.
•Set up your appointments or annual reviews with Jake.
•Assist our underwriters with the information needed to approve your insurance policies.
•Answer questions about your billing or premiums
Barbara J Ewing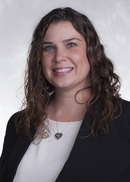 Stephanie L Hill
Financial Assistant
Office 405-843-8391